Tsavo West National Park Kenya, Big Five watching Tours

Tsavo West National Park is located in the Coast Province of Kenya. The park covers an area of 9,065 square kilometres. The A109 road Nairobi-Mombasa and a railway divides it from the adjoining Tsavo East National Park. Together with adjoining ranches and protected areas, they comprise the Tsavo Conservation Area.
Tsavo West National park is a more popular destination on account of its magnificent scenery, Mzima Springs, rich and varied wildlife, good road system, rhino reserve, rock climbing potential and guided walks along the Tsavo River. The park is operated by Kenya Wildlife Service.
Car Rental to Explore Tsavo west National Park?
Tsavo's hidden gem, the Mzima Springs can be visited on Self drive Safari in Rented car Kenya from the local experts. Kenya's clearest spring and a must-visit.
Tsavo West National Park has a variety of wildlife Safari, such as eastern black rhinoceros, hippopotamus, Cape buffalo, elephant, leopard and lion. There are also other smaller animals that can be spotted in the park, such as the Bushbaby, hartebeest, lesser kudu and Masai giraffe.
Safari activities in Aberdare National Park
Tsavo west National park, also famous as '' the land of lava, springs, magical sunsets and man-eaters'' is operated by Kenya Wildlife service and was established in 1948 together with its counterpart- Tsavo east national park, find the list of things to do on your Self drive Safari to Kenya.
Note : Dont miss Rhino tracking  at Ngulia rhino sanctuary which covers 90 square kilometers. The sanctuary is a home to a numerous rare black rhinos and ensures that the rhinos are safe and healthy.
Game drive in Tsavo West

All the members of the African Big Five (Lion, Buffalo, Elephant, Rhino and Hippo), vast herds of red-dust elephants, large schools of hippos and gigantic Nile crocodiles including other smaller species of mammals including the dik-dik, bush baby and klipspringer are supported by the park and offer one of the most spectacular wildlife viewings in Tsavo West National Park.
When entering Tsavo West through Chyulu gate, one of the first things you see in the park is Shetani lava flow. Shetani means 'devil' in Kiswahili. When the locals first saw 'fire' erupting and 'flowing' on the ground some 500 years ago, they believed that it was the devil himself emerging from the earth. The Shetani black lava flow is 8 km long, 1.6 km wide and 5 meters deep. The sight is quite special and spectacular.
Shetani lava flow
Birding in Tsavo West
With over 400 bird species, Tsavo West National Park is considered one of the best places to visit for birding. Between October and January, bird lovers flock to Ngulia hills annually because of its strategic location along one of the world's busiest bird migration routes to see birds which include River Warbler, Marsh Warbler, Red-baked Shrike, Verreaux's Eagle Owl, Vulturine Guineafowl, Golden-palm weaver among other portfolio species.
Tsavo West National Park offers some of the best rock climbing adventures in Kenya. The most impressive rock climb is the famous 300m Kichwa Tembo rock which attracted the first adventure and later, the second expedition to conquer the impressive Tsavo Chimney. Other hiking and rock climbing areas include the Ngulia Hills, Mastodon and Ivory tower. These viewpoints allow you to have a panoramic view of the landscapes, large herds of elephants roaming the vast plains and flocks of birds in the park. The rock climb usually happens in the morning hours before the heat of the sun becomes intense and for safety purposes, climbers are escorted by an armed ranger. Check out on Car rental deals
Chaimu volcanic crater and lava field
Notice how the road color changes from red to black as you get closer to Chaimu. Chaimu crater, or "the devil's crater" in Kamba tribe language, is a tall rising hill clad in the bright black color of the lava stones. You can climb this recent volcano as there is a path leading to the top. Climbing the hill is not easy as it is not stable and can be slippery.
Five sister's hills
One more volcanic feature of Tsavo West is 'Five Sisters,' the five almost identical cone-shaped hills located in one area and resembling one another. The scenery is stunning – a low ridge of black lava outcrop, long luscious grass and conical hills that make the Five Sisters.
Mzima Springs are replenished with two hundred and twenty million litres of crystal-clear water every day. It comes from the underground streams flowing from the nearby Chyulu Hills. Mzima in Swahili means 'Life'. It attracts rich wildlife including elephants, hippos, crocodiles, gazelles, zebras and giraffes wandering around the banks through the thick acacias and raffia palms together with a large number of monkeys and birds.
Mzima is also the main source of Mombasa's city water supply. There are well-marked nature trails, an observation platform and an underwater glass tank. You can take a walk guided by a ranger there.
Mzima springs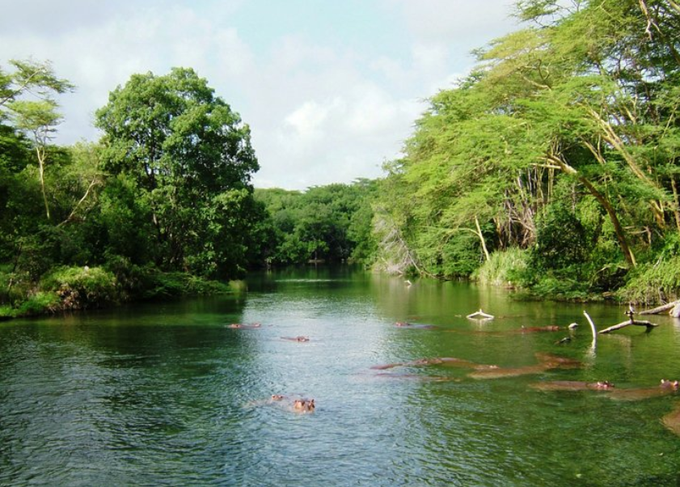 Tsavo west national park provides plenty of accommodations options ranging from budget (Camping), mid-range and luxury options.
Among these accommodations include; Severin Safari Camp ,Kilaguni Serena Safari Lodge ,Finch Hattons Luxury Tented Camp, Ngulia safari lodge, Kipalo Camp, Lion Bluff lodge and campsite and others
When to go to Tsavo West National Park?

Tsavo West NP Tsavo West National Park is best visited in the dry months from June to October and January to February. Although the park can be visited at any time of year, wildlife viewing during the peaks of the Wet season (April and November) is not recommended.
How to access Tsavo West National park?

Tsavo West National Park is in southeast Kenya, 232km/144mi from Nairobi (4 to 5 hours) and 250km/155mi from Mombasa (4 to 5 hours).
Driving to the reserve from Nairobi, Mombasa or another park is a good option depending on your plans. The distance from Lake Nakuru National Park is 460km/285mi and the driving time is about 8 hours. We transfer our clients in comfortable safari vehicles.